USER AGREEMENT
Welcome to ILIV. ILIV, provides its services to you subject to the following terms and conditions. If you access this web site or visit or shop at www.iliv.co.in, you accept these Terms and Conditions of Use, as well as our other terms and conditions on this web site, such as our Privacy Policy, Cancellation and Refund Policy, Delivery policy and Disclaimer. Please read them carefully. In addition, when you use any current or future ILIV service on this web site, you also will be subject to the guidelines and conditions applicable to such service. All products /Services and information displayed on www.iliv.co.in constitute "An invitation to offer". Your orders for purchase constitute your offer which shall be subject to the terms and conditions as listed below. www.iliv.co.in reserves the right to accept or reject your offer.
APPLICABLE LAW
This site is created and controlled by ILIV. The laws of India shall apply and courts in Delhi only shall have jurisdiction in respect of all the terms, conditions and disclaimers. ILiV reserves the right to make changes to the web site and the terms, conditions and disclaimers at any time and without information to the customers/users of the services/web site of ILIV.
DEFINITIONS
"Agreement" means the terms and conditions as detailed herein including all schedules, appendices, annexures, privacy policy etc., and will include the references to this agreement as amended, notated, supplemented, varied or replaced from time to time.
"www.iliv.co.in" / "ILIV." / "web site " means the online shopping platform and the services provided by it owned and operated by ILIV. which provides a venue to the users of www.iliv.co.in to buy the products listed on www.iliv.co.in.
"Vendor" / "seller" /"affiliates" shall mean the person or any legal entity who offers for sale, sells the products on the www.iliv.co.in.
"Customer" / "buyer" shall mean the person or any legal entity who makes the offer for sale on www.iliv.co.in by placing an order for and or purchases any products through the platform of www.iliv.co.in.
"User" / "you" means and includes any person or an entity or any legal entity using or accessing the services provided on this site. "Product/Products" means and includes any goods/merchandise/products/services/offers/display items that are uploaded /showcased/displayed on www.iliv.co.in and the related description, information, procedure, processes, warranties, delivery schedule, etc.
ELECTRONIC COMMUNICATION
When you visit www.iliv.co.in or send e-mails to us, you are communicating with us electronically. You consent to receive communications from us electronically. We will communicate with you by e-mail or by posting notices on this web site. You agree that all agreements, notices, disclosures and other communications that we provide to you electronically satisfy any legal requirement that such communications be in writing.
COPYRIGHT AND TRADEMARKS
Unless otherwise stated, copyright and all intellectual property rights in all material presented on the site (including but not limited to text, audio, video or graphical images), trademarks and logos appearing on this site are the property of ILIV., its parent, affiliates and associates and are protected under applicable Indian laws. You agree not to use any framing techniques to enclose any trademark or logo or other proprietary information of ILIV. Any infringement shall be vigorously defended and pursued to the fullest extent permitted by law.
PERMISSION AND SITE ACCESS
ILIV. grants you a limited license to access and make personal use of this site and not to download or modify it, or any portion of it, except with express prior written consent of ILIV. This license does not include any resale or commercial use of this site or its contents; any collection and use of any product listings, descriptions, or prices; any derivative use of this site or its contents; any downloading or copying of account information for the benefit of another merchant; or any use of data mining, robots, or similar data gathering and extraction tools. This site or any portion of this site may not be reproduced, duplicated, copied, sold, resold, visited, or otherwise exploited for any commercial purpose without prior express written consent of ILIV. You may not frame or utilize framing techniques to enclose any trademark, logo, or other proprietary information (including images, text, page layout, or form) of ILIV. and our affiliates without express written consent. You may not use any meta tags or any other "hidden text" utilizing ILIV.'s name or trademarks without the express written consent of ILIV. Any unauthorized use terminates the permission or license granted by ILIV.
CHANGES / PRODUCT DESCRIPTION
ILIV. reserves the right to suspend / cancel, or discontinue any or all products or service at any time without notice, make modifications and alterations in any or all of the content, products and services contained on the site without prior notice. If a product offered by www.iliv.co.in is not as described, your sole remedy is to return it to us in unused condition within 7 days of delivery.
USER ACCOUNT
Notwithstanding other legal remedies that may be available to ILIV., ILIV. may in its sole discretion limit user activity by immediately removing user listing either temporarily or indefinitely or suspend or terminate user membership, and/or refuse to provide user with access to the site: If the user is in breach any of the terms and conditions of this agreement and/or the terms and conditions of usage of ILIV.;
If the user has provided wrong, inaccurate, incomplete or incorrect information;
If your actions may cause any harm, damage or loss to the other users or ILIV.
Illegal and/or unauthorized use of the service, including unauthorized framing of or linking to the ILIV. site will be investigated, and appropriate legal action will be taken, including without limitation, civil, criminal and injunctive redress.
RISK OF LOSS
All items purchased from www.iliv.co.in are made pursuant to a shipment/dispatch contract. This means that the risk of loss and title for such items pass to you upon our delivery to the carrier/courier.
FORCE MAJEURE
ILIV. shall have no liability to you for any interruption or delay in access to the Site irrespective of the cause.
POLICY UPDATES
We reserve the right to change or update this policy at any time by placing a prominent notice on our site. Such changes shall be effective immediately upon posting to this site. If any of the terms & conditions shall be deemed to be invalid, void or for any reason unenforceable, that term shall be deemed severable and shall not affect validity & enforceability of any remaining term & condition.
ENTIRE AGREEMENT
These Terms of Service constitute the entire agreement between the parties with respect to the subject matter hereof and supersedes and replaces all prior or contemporaneous understandings or agreements, written or oral, regarding such subject matter. The clauses as above shall survive the termination or expiry of this agreement.
GENERAL
The waiver of a breach of any term hereof shall in no way be construed as a waiver of any other term or breach thereof. The person agreeing to these terms & conditions of use represents & warrants that such person is authorized to bind and thus bind his or her principal or employer and has adequate legal capacity to enter into these terms and conditions of use.
OUR ADDRESS
ILIV, FASTRACK DEALCOMM PRIVATE LIMITED, E-4, Udyog Nagar, Rohtak Road, New Delhi – 110041
DISCLAIMER
This site is provided to you by ILIV. On "As is" and "As available" basis. iLiV does not warrant that this site, its servers or email sent from www.iliv.co.in are free of viruses and other harmful components.
ILiV, makes every effort to present accurate and timely information regarding the products we have for sale. However, it is possible that some discrepancies or inaccuracies may arise in which case please inform us at "email.
All products displayed in our catalogues may not be readily available for sale due to product unavailability or for any other reason.
INFORMATION LIABILITY
In no event shall www.iliv.co.in or any of its sources be liable for any direct, special, incidental, indirect, or consequential damages whatsoever (including but not limited to: damages for loss of business profits, business interruption, loss of business information, or any other pecuniary loss) arising out of the use of the information made available on this web site.
Information on the www.iliv.co.in web site may not be reproduced, copied, or altered without the express written consent of www.iliv.co.in and its affiliates.
AMC
Three Periodical Services in 1 year from the date of receipt.

Any additional visit during AMC Period upon request by customer/consumer is on chargeable basis.

Contract Period: Term of AMC will be 12 Months from the date of receipt. It can be renewed 2 weeks before ending of AMC.

Payment, if done via cheque, will be in favor of "FASTRACK DEALCOMM PRIVATE LIMITED"

Price of AMC will remain same if continued from starting, may be increased if chain broken, and amount for AMC according to water purifier actual conditions and their uses and AMC will become active after 1 week, if not remain in continuity from starting.

For taking AMC, machine should be in proper running condition, picture/photo of machine is mandatory for starting AMC, if not in continuity.

We use Genuine Spare Parts and equality to specifications.

Casual calls for providing service or repairing of machine and buying of AMC on the spot will be charged as a normal service cost without AMC.

Service will be on demand basis, company is not giving any mandatory service, 3 periodic service will be provided as per AMC, getting complimentary with machine upon request to be made on either on toll free number or via email.

All parts, depending on the category of AMC are covered under AMC, check details as follows: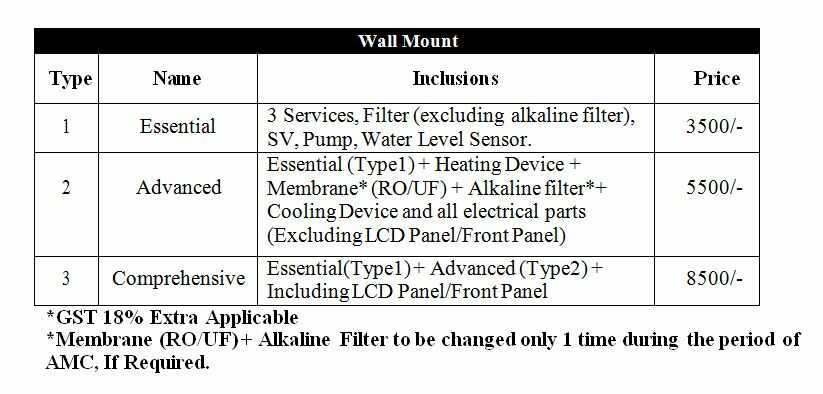 Service under this contract excludes the following:
Paint of machine.
Scratches, general wear and tear, breakage of machine from outside.\
Company will try to solve the problem being faced by customer in maximum period of 3 working days from the date of complaint. However, company will always try to solve the problem on the same day basis but the same is not being committed/promised by the company at the time of high/heavy work load days.
In order to enable iliv to discharge its obligation under this AMC, the customer shall not shift the installation from original address to any other address, if to be done then the same to be intimated to the company in advance and the same to be done by the company and the cost will be borne by the customer, this will not be treated as a part of this AMC.
This contract is not transferrable not terminable in any manner (resale, transferred, and shifting).
Company reserves the right to the renewal of AMC after the expiry of AMC, depends on the terms and conditions followed by customer.
In the event of complaint, please mail on support@iliv.co.in or call on toll free number 1800 2121 00786 and do mention your name, address, invoice number, if AMC is there then its number along with machine number.
Intimation of the completion of AMC will be done by company either via call or via email but only for 1 time, then decision to be taken by customer only. Delay in taking decision should not fall on company and same will not be accepted as a reason for renewing AMC.
This contract sets out all terms and conditions of which Company agree to service the and cancels and supersedes all priority agreements, undertaking of arrangements, oral or written between the parties on the subject matter.
Company reserves the right to cancel the AMC at any point of time, if machine is being serviced by any person not authorised by the company or by any third party.
Company shall not be held liable for any problem in machine arises out of wrongful usage, misuse, negligence, bad storage or bad transportation etc.
No employee or officer has a right to waive any part of the contract or any terms and conditions other than the directors of the company.
All prices of AMC are subject to increase without any prior intimation.
This contract is subject to FORCE MAJEURE.
Any dispute or difference of any nature whatsoever arising out of or in relation to this contract or any manner incidental there to or any claim, cross claim, counter-claim, or set off regarding any right, liability, act or omission of any of the parties here to shall be referred to the sole arbitration of the arbitration to be nominated by the company. The award of arbitrator should be final, conclusive and binding on both the parties hereto. Place of arbitration will be Delhi and courts of Delhi alone have the jurisdiction to deal with the arbitration proceedings and the award in accordance with the law.
All disputes are subject to jurisdiction of Delhi courts only.
WARRANTY:
Terms & Conditions
An invoice must accompany product, returned for warranty.
Goods damaged during transit voids warranty.
1 year limited warranty unless otherwise stated.
Warranty will lapse, if service and installation done from outside agency or not from the company.
Installation and service to be done by company's official service engineer only and the request for the same to be done/raised on either at support@iliv.co.in or on toll free number 1800 2121 00786.
1 Year AMC (type – essential) is complimentary along with the machine.
All items carry MFG warranty only (limited to its use only as per terms and conditions mentioned).
RETURN AND REPLACEMENT RELATED
15 days' money back guarantee: We offer you a No Questions Asked Return Policy, to provide you with a worry free shopping experience, when you choose to make a full payment for iliv water purifier. If you are unsatisfied with the item or by the promises made by company, you may conveniently return it, in its original packaging for a refund.
All goods returned for replacement/credit must be saleable conditions with original packing.
All return authority number must be obtained prior to goods being returned via online from company's website.
Please attach a copy of RA form and clearly mark the box with RA number.
RA Part that is testing "NOT Faulty" may incur a service fee of Rs. 500/- (including tax).
A copy of invoice is required. Without the invoice, the warranty process will be delayed.
If you received a damaged product, please contact support@iliv.co.in or on toll free number 1800 2121 00786.
DELIVERY
We make every effort to ship the product or provide the services here-under in accordance with the requested delivery date.
We do not accept any liberty for any losses or for general, special or consequential damages arising out of delay in delivery.
All shipment cost shall be borne by the company.
All delivery dates given by us are in good faith but we will not accept any liability to the customer for any delay in delivery.
The prices in the published price list includes packaging, carriage and freight.
INSTALLATION – TERMS AND CONDITIONS:
Request for installation to be made within a period of 2 days from the date of purchase or delivery of machine either on company's website, via email or on toll free customer care number. Our acceptance for the request will take place then.
If there is any working time limit at the installation site, same to be disclosed at the time of making request for installation.
Working hours for the company's engineer is from Monday to Saturday from 9:30 AM to 7 PM. (off on public holidays)
Company accepts no responsibility for the damages caused to any wall, pipeline, civil works etc. while making an installation but at the same time if something goes wrong with the machine the same will be exchanged free of cost to the customer.
During the course of installation, if anything causes delay like unavailability of site access/no access to terrace etc., the same will be treated as fail on the part of customer and visitation charges of engineer can be charged for next visit.
*Note: waste water pipe is complimentary along with installation from company's side only upto 20 meters, if required more, than Rs. 50 per meter will be charged from customer.